Hey everyone.&nbsp Welcome to my "Motorcycles" page.&nbsp I had originally built this as a single page, however content of this page has grown to a point that I thought it best to create links for the 2 motorcycles using up the most bandwidth, which would be my first Harley (Carley) and my Boss Hoss (Godzilla).&nbsp I have created these links in an effort to not exclude the dial-up community from enjoying my site.&nbsp Enjoy.
My first motorcycle - a 1978, 250 Suzuki dirt bike
My first motorcycle purchase (predictably, against my parent's wishes), was a 1978 Suzuki 250.&nbsp It was actually a stripped Enduro, so it was more like a dirt bike.&nbsp I paid 100 bucks for it.&nbsp I made this purchase when I was 15 from a coworker at an auto repair shop - "Mr. C's Auto."&nbsp I rode that bike all over Albuquerque (in the days when you could ride a dirt bike on the city streets with no headlights, brake lights, turn signals, license, insurance, registration, etc.) for about 3 months before I was eventually "caught" and forced to return the bike to its original owner. &nbsp Ahhhhh...those were the days...(I have no pictures of that bike).
My second motorcycle - a 1970 CL450 Honda DOHC
A couple years went by before I was able to afford another motorcycle.&nbsp This time, being 17-years-old and licensed by the state of New Mexico, I was able to purchase a motorcycle with my parent's permission.&nbsp She was a 1970, 450 Honda DOHC (Double Over Head Cam) which cost me $400.00 (I will post pictures of that bike when I find them).&nbsp After about a year that bike was stolen from out in front of my parents' house while I was at the movies.&nbsp I was so mad I vowed to purchase another 450 just like it.
---
My third motorcycle - a 1971 CB450 Honda DOHC
Less than a week after losing the '70, 450 I found a 1971, 450 Honda for $25.00.&nbsp I tore that bike down and rebuilt it. &nbsp I painted her black, removed all the "Honda" emblems, and installed baby ape-hangers.&nbsp I was, indeed, cool. &nbsp That bike was my only transportation for the next 6 years.&nbsp I still have that bike to this day.&nbsp She still runs, too.&nbsp Just charge the battery and add some gas and she's good to go!
&nbsp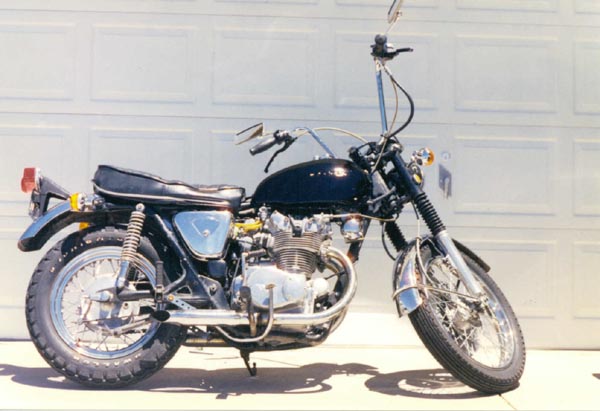 My fourth motorcycle - 1986 Suzuki Intruder
Finally, in 1987, after purchasing a car and a truck, I saved up enough money to put a down-payment on a 1986 Suzuki Intruder (demo model).&nbsp I actually really liked that bike and did some traveling on her while touring with one of my bands.&nbsp She was black with drag bars...pretty kewl, I must say. &nbsp I rode that bike for roughly 3 years before trading her to a buddy for a 1986, 250 Kawasaki dirt bike.&nbsp I still have, and ride, that dirt bike to this day. &nbsp (You can see it behind the Honda in the above, left picture).&nbsp Here's a couple pictures of that '86 Intruder.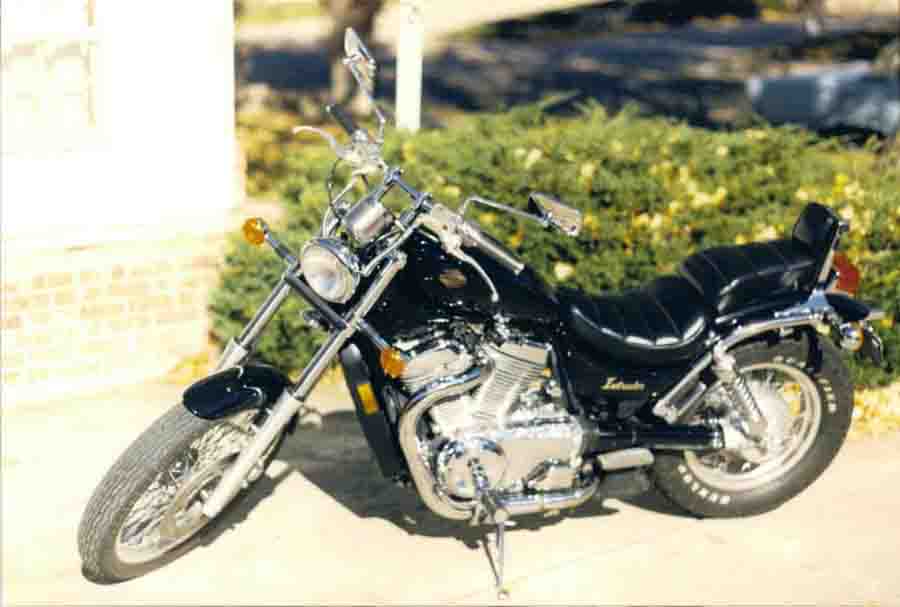 &nbsp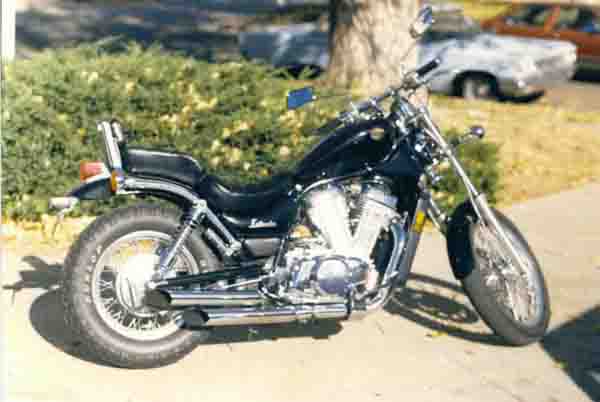 ---
My fifth motorcycle - a 1989 FXRS (Carley)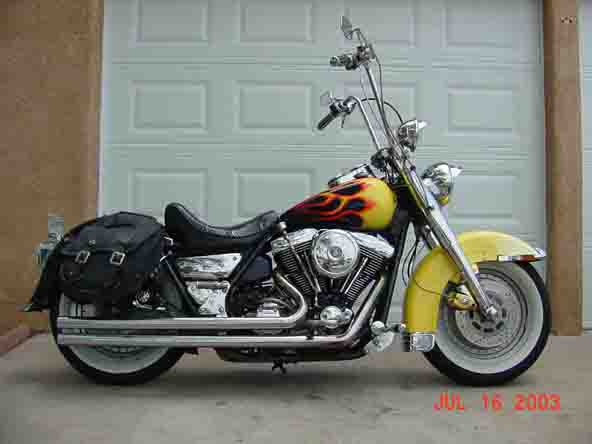 Click on image to read about Carley.
Go to top&nbsp &nbsp &nbsp &nbsp Click here to see Carley on my "Videography" page

---
My sixth motorcycle - a 1996 Dyna Wide-Glide


The next bike I purchased was a 1996 Dyna Wide-Glide (FXDWG). &nbsp I owned that bike for a mere 3 months and 13,000 miles before trading it for my Boss Hoss.&nbsp I basically took 4 trips on that bike: I went to California, then Sturgis, then Florida, and then to N.W. Nevada to pickup my Boss Hoss.&nbsp I've looked around for pictures of that Dyna and for the life of me I can't find any.&nbsp Because I owned her for such a short period of time, she remained mostly stock.&nbsp Like the Intruder I owned previously, the Dyna was black with drag bars and loud pipes (of course)...very kewl bike.&nbsp If I find any pictures of that bike, I'll post 'em.
---
My seventh motorcycle - a 1994 Boss Hoss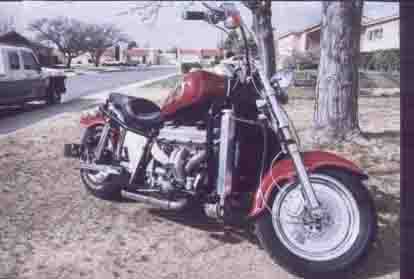 Click on image to read about my Boss Hoss.
---
My ninth motorcycle - a 2006 Daytona minibike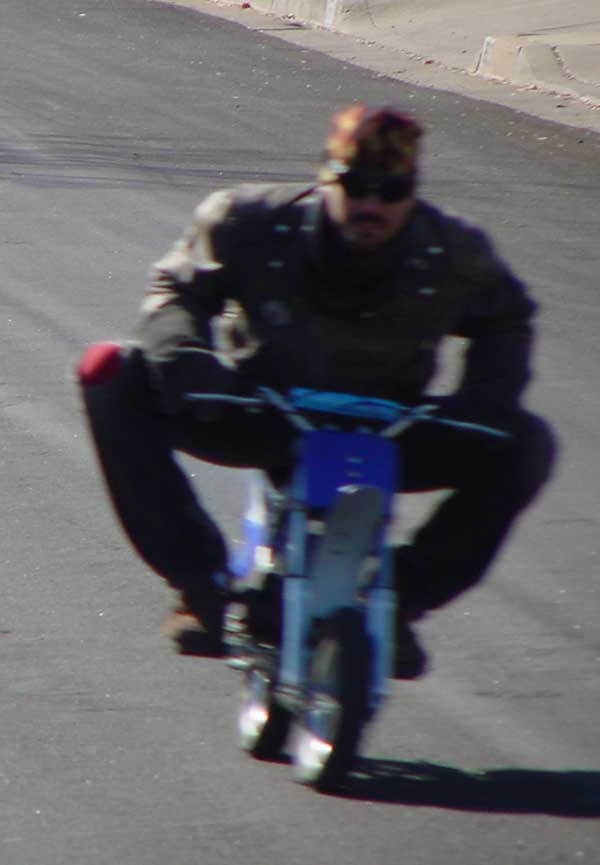 Click on image to read about my minibike.

Go to top



This page is up as of March 14, 2005 - 4:PM and was updated February 6, 2006 - 12:AM.


---
If you have any questions, comments or suggestions, please



e'mail me.

Thanx for visiting my Motorcycle page!


All pictures & material Copyright &copy 2005 Donnie Frank