Live Digital Recording and Mastering
Back to "Index" on home page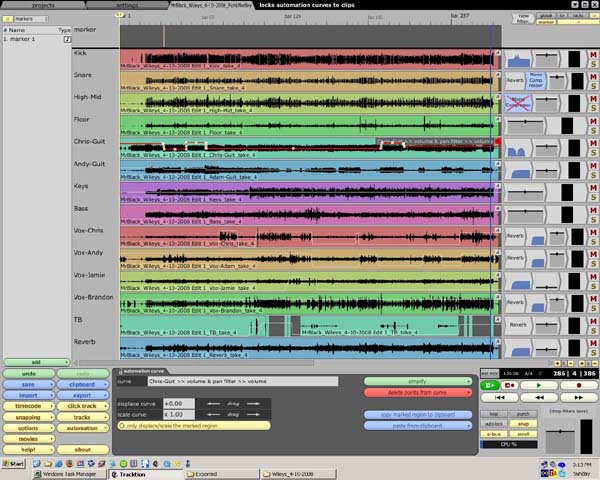 ---
---

Why should you go with a live

digital recording instead of a studio recording???&nbsp Because

is a very <!PURPLE TEXT STARTS HERE> cost-effective <!END PURPLE> and TIME-effective way of recording your band.&nbsp Think about how much time and money you spent on your last demo CD.&nbsp You had to:


<!BLUE TEXT STARTS HERE> find a good studio <!END BLUE>
<!BLUE TEXT STARTS HERE> TRUST that the producer/engineer knew what he was doing <!END BLUE>
<!BLUE TEXT STARTS HERE> get musicians together <!END BLUE>
<!BLUE TEXT STARTS HERE> hope they're not late at $50.00 - $100.00 per hour <!END BLUE>
<!BLUE TEXT STARTS HERE> hope you get the track right the first time because you're spending money like it's water <!END BLUE>

...and on and on. For roughly 1/3 the cost of a studio CD, I can record your band live, mix it down and make you sound pretty darn good.&nbsp <!YELLOW TEXT STARTS HERE> I double-dog dare you to listen to the demonstration .mp3 files available in this section!&nbsp <!END YELLOW> It doesn't matter what kind of band you have.&nbsp If its REAL music made by REAL musicians, I'll make you sound good.&nbsp With a

digitally recorded CD, you can look a client straight in the eye and proudly proclaim, "This is my band live.&nbsp What you hear is what you get!"&nbsp My CD's are of broadcast quality.&nbsp You can hand my finished CD's to any radio station and I guarantee it will sound better than 90% of the studio CD's the radio station has in their archive.

Maybe you want to record and release a CD of your original stuff???&nbsp Who's got the time and money for that?&nbsp Throw a few originals into your set and I'll mix 'em down digitally and make them sound as good as they possibly can.&nbsp But hell...don't take my word for it.&nbsp <!YELLOW TEXT STARTS HERE> Click on the links below (I double-dog dare ya!) <!END YELLOW> to hear some of my live digital recordings.&nbsp I think you will be impressed.



has the ability to record up to 16 digital tracks of live music.&nbsp Unlike the old days of DAT recordings, these CD-quality recording go straight to my hard disk for mastering at a later time.&nbsp I have already recorded and digitally mastered a couple bands.&nbsp The samples below were mastered without the benefit of any post-production performances.&nbsp All tracks in this section were recorded live.

The first group of .mp3's were performed by "Mr. Black."&nbsp Most of the samples in the "Rock-n-Roll" section are 3-4 minutes long.&nbsp These are full-fidelity, CD quality renderings, so file sizes are about 3.5Mb to 9Mb.&nbsp Listen in headphones to get the full stereo effect.&nbsp Please use your browser's "Back" button (left arrow in upper-left corner) to return to this page.

Rock-n-roll

---
Jimi Hendrix/funk medley - 9.1Mb
Funk - R&B
---
Note: This next MP3 is is by an R&B band called Rhythm Nation.&nbsp This is my first R&B effort.&nbsp This song was recorded at Our Place II in Albuquerque.
In My House by the Mary Jane Girls - 3.7Mb
Spanish music
---
Note: These next song samples were recorded at a 40-year wedding anniversary party.&nbsp The performing band is an 11-piece Spanish band called the Tim McDaniels Band.&nbsp I spent a lot of time on these.&nbsp I hope you enjoy them.
You Send Me

Each one of these songs took roughly 5-8 hours to mix and render to a CD-quality MP3 file.&nbsp I don't just go in and pop out raw tracks.&nbsp I scrutinize every track until I get a mix that's easy to listen to and professional sounding.&nbsp If you listened to the above tracks and noticed nothing, then my objective has been achieved.&nbsp This means your brain felt like you were listening to the radio or some other CD - not something recorded live from a local band in a local venue.&nbsp The easier a track is to listen to, the more likely a CD will keep a venue owner's attention.&nbsp And if you've dealt with as many club owners as I have, you know that that is a feat in itself.


---
<!BLUE TEXT STARTS HERE>

This page is up as of January 4, 2009 - 3:45 PM.

---
If you have any questions, comments or suggestions, or need a sound engineer that can unlock the full potential of your band, please...




...e'mail me

Or leave a message for Donnie on my land-line: 505-271-6880
Or you can contact me via my Voice over IP line: 505-990-3307
(VoIP will forward to my cell on days I have my cell turned on,&nbsp In addition a voice message will be sent to my e'mail address, which can be retrieved remotely from any computer in the world.&nbsp So this is a good way of reaching me.)



You are visitor number:


All pictures & material Copyright &copy 2007 Donnie Frank
Company logo designed and created by Brandon McCutcheon